8-days trail-ride through the romantic wilderness of the Carpathian Mountains.
You will follow hidden paths, pass through mysterious spruce forests, ride up to mountain plateaus, enjoy picturesque views and most importantly, you will follow fresh bear tracks.
Experience an unforgettable adventure in Székely Land. Become part of a world in which time seems to stand still; here mountain farmers still cultivate their fields with working horses and countless shepherds spend their days tending the flock, roaming freely through the mountains. On the back of our crossbred Lippizan horses you can daydream, let your soul wonder and enjoy the splendor of nature. Accompany us on a journey off the beaten track, through time and through this very special country.
On the third day of our adventure, a special highlight awaits you: During a bear observation you will get to see the native brown bears in their natural habitat.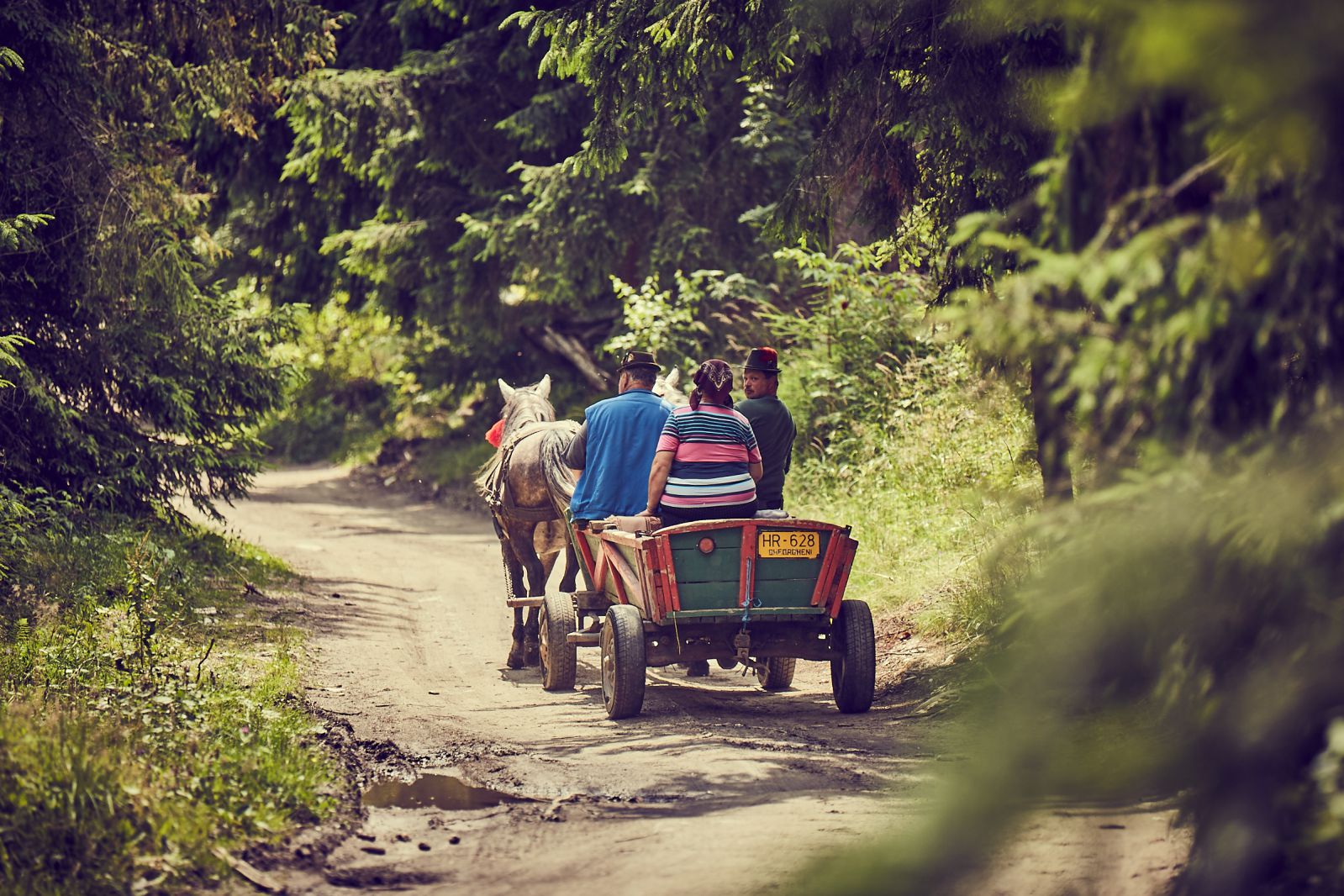 6 riding days / 7 overnight stays
Trail-ride of 170 km through the wilderness of the Eastern Carpathians
Reliable, sure-footed horse and the necessary gear
Experienced, English speaking guide
rich breakfast and warm, local dinner
Local, alcoholic beverages are included
1 saddlebag-picnic a day
2 overnight stays on our ranch in an oven-heated double/ or multibed room
5 overnight stays in a cozy pension
Adventurous off-road drive to our ranch
Bear observation
Hot Pot: wood-heated tub with warm salt water included
Free and safe parking spaces
Discount for groups possible on request
Maximum group size is 10
Come with us and discover Transylvania on horseback!
Observe bears in untouched nature.
1st day:
After your arrival in Gheorgheni, we will take you on an adventurous off-road ride: In our van we will take you to our Hipparion Ranch, which is remotely located in the Eastern Carpathian Mountains. With a little luck we might spot a deer, a capercaillie bird or even a bear. Once you have arrived on our ranch, you can unwind after your long journey by immersing yourself in the warm salt water of our Hot Pot. After having familiarized yourself with our horses and moving into your room, our cook Brigitta, will indulge you with an original Szekler dinner, in our rustic log cabin.
2nd day:
After breakfast, we will discuss the details of our tour together. Then you will pack your day's luggage into the saddlebags and we will start the first part of our tour, on which you can get to know your horse a bit better. We will follow a small path that will lead us to the source of the Olt, the second largest river in Romania. At its source, we will water our horses and continue to ride uphill through dense spruce forests and towards Mount Sípos. Once we'll have reached the summit (1568m), we will stop for lunch and enjoy the breathtaking view of the Harghita Mountains. Strengthened and full of energy, we will then ride downhill over flowering mountain meadows and into the Gheorgheni valley, where the open plains are ideal for short canters. We will spend the night in a comfortable mountain guesthouse.
Duration of the ride approx. 5.5 hours
3rd day:
The longest day in the saddle awaits you. After a rich and typical Romanian breakfast, we will ride up a steep trail to the summit of the mountain "Del Hegy" (1650 m). The intricate path promises to be adventurous. Occasionally we will need to dismount and hike a little way with our four-legged friends. Possibly we might spot some fresh bear tracks along the way. For lunch we will stop on a meadow with view of the snow-covered peaks of the "Kelemen Alps" (2100 m). Once we're back in the saddle, we will be headed towards a volcanic mountain plateau, which offers a spectacular view of the village "Szekely Varsag". We will be staying here for the night. The bath barrel which is filled with saltwater invites you to relax after this long day.
Duration of the ride approx. 7 hours
4th day:
In the morning we will ride around the area surrounding the village Székelyvarsag. Having passed fields and cultivated land we will reach another wild mountain range. In former times the "Road of the Salt", an old trade route, led through this area. You will experience how difficult it was to pass through this terrain. In continuation of this path, we will ride through thinly distributed forests and reach a wide, open plain where numerous shepherds keep watch over their flock. You will spend the night in a former riding-stable, which has been converted into a cozy guesthouse. After having been greeted by our host Istvan with Palinka and homemade cheese pastries, you will be taken on a bear safari. From a safe distance, you will observe the brown bears while they are feeding, playing or even mating. Back in the pension a hearty dinner will be awaiting you.
Duration of the ride approx. 5 hours
5th day:
In the morning we will say farewell to our host Istvan and his team and continue our trail-ride. Today we will reach the Harghita plateau, where we will have the opportunity to trot and canter. Once we'll have passed the Zetelaki water reservoir and the Sikasszó brook we will be in the southern part of the Gheorgheni-Alps. On our way to our accommodation in Liban, we will be riding through dense pine forests.
Duration of the ride approx. 5 hours
6th day:
After having had breakfast and saddling our horses we will once again return to the wilderness. On small paths we will ride uphill to the summit of the "Ostorosz", from which you will enjoy the breathtaking view of the Madarasi Mountain Range. After having crossed the Maros River, we will arrive in the tranquil village Marosfö, where we will be accommodated in a small family-run guesthouse. The homemade apple pie will be awaiting you.
Duration of the ride approx. 6 hours
7th day:
On your last, shorter riding day you will once again ride up to the summit of Mount Sipos. From there we will ride along a clear mountain stream which will guide us back to our ranch. After having released our horses, you will have time to relax, to review the week and to talk to your fellow riders at the campfire about the exciting adventure you have all had. Our cook will be preparing fresh trout for dinner.
Duration of the ride approx. 4 hours.
8th day:
After a hearty breakfast, we will drive you to Gheorgheni, from where you will start your individual journey back home.
Requirements:
You should be experienced in all paces (walk, trot, gallop) and be in a good physical condition. Sometimes we hike and lead the horses down and uphill. You should be able to independently control your horse.
Packing:
Good hiking/trekking boots, high quality rain gear, head lamp and warm clothes
You will receive a detailed packing list after signing up.
Important notes:
-In special cases vegan, lactose free and gluten free meals can be provided. Please be aware that the meals will be simpler and the diversity reduced. Only possible with a declaration before arrival.
Changes in the program can occur depended on the weather
2023:
24.09.-01.10.2023 *only few spots left*
08.10.-15.10.2023 *only few spots left*
22.10.-29.10.2023
2024:
02.- 09.06.2024
16.-  23.06.2024
07.- 14.07.2024
04.- 11.08.2024
18.- 25.08.2024
01.- 08.09.2024
15.- 22.09.2024
29.09.- 06.10.2024
13.- 20.10.2024
Book on the track of the bears now