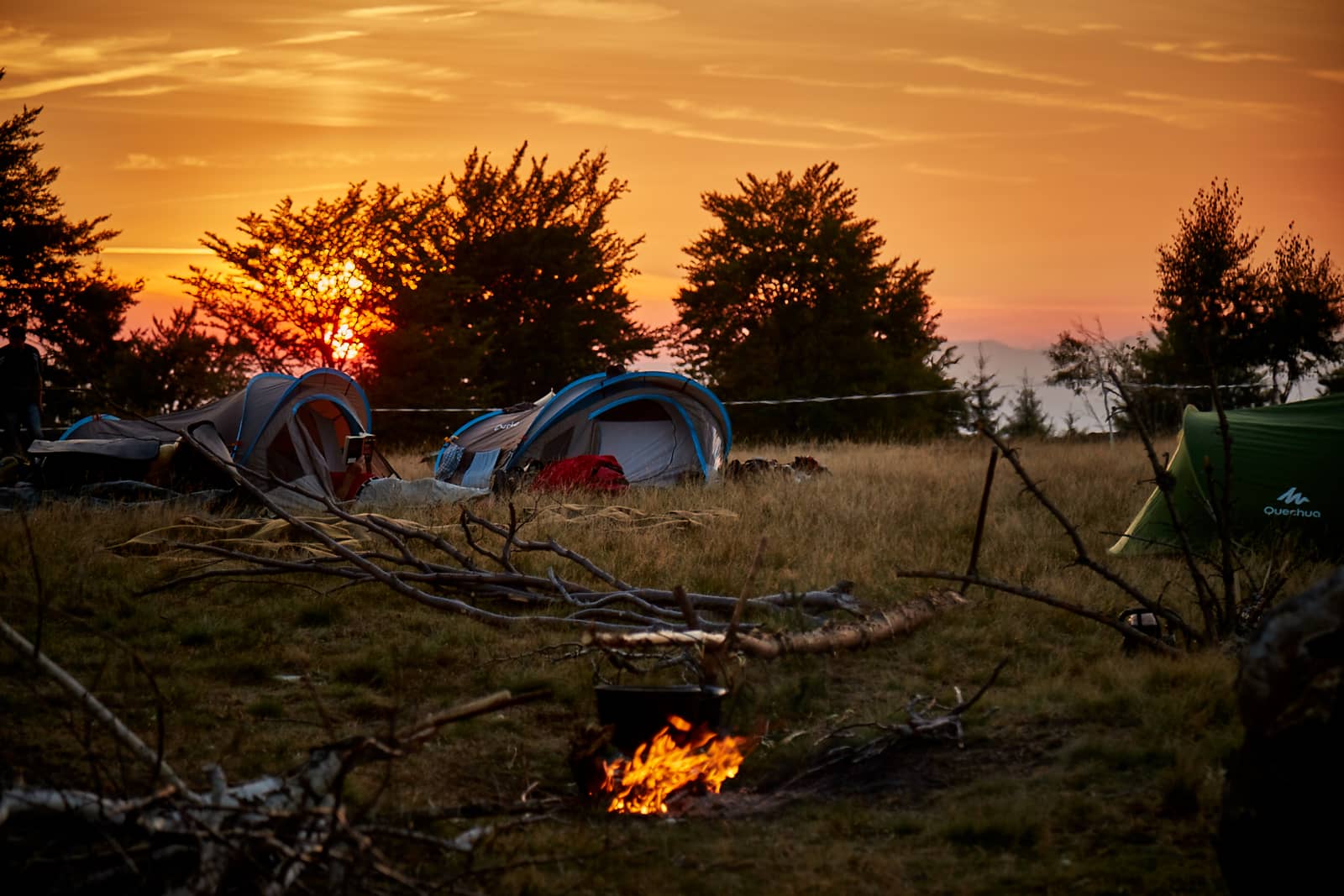 "It's the great, big, broad land 'way up yonder,
It's the forests where silence has lease;
It's the beauty that thrills me with wonder,
It's the stillness that fills me with peace."
Robert W. Service

Freedom, adventure, romantic moments at the bonfire, enjoying the simple life and sleeping under the starlit sky: 2-week camp and riding trip through the wilderness of the Romanian Carpathians.
On this extraordinary adventure, we explore over 330 km of the volcanic Harghita Mountains. The trail-ride will take you to the beautiful main ridge of the Carpathians with untouched primeval forests, spectacular mountain views and blooming meadows as far as the eye can see. Our route leads us around Lake Sfânta Ana, which is the only volcanic crater lake in Eastern Europe. We will camp at natural campsites, far away from any civilization. Your food is cooked on a pot over a fire in the great outdoors. The evenings end romantically at the campfire with guitar music, a lot of singing and good conversations. On our 6th day we will let our horses enjoy a much-deserved break. Meanwhile we will visit a cave, a spring, the beautiful Lake Sfânta Ana and experience the native brown bears in their natural habitat. For all daredevils out there, who are looking for a real adventure at the heart of Europe, this trail-ride is just what you have been searching for!
12 riding days/ 14 overnight stays 
Trail-ride of 330 km through the wilderness of the Carpathians
Reliable, sure-footed horse and the necessary gear
Experienced, English speaking guide
rich breakfast and warm, local dinner
Local, alcoholic beverages are included
1 saddlebag-picnic a day
3 overnight stays on our ranch in an oven-heated double/or multibed room
3 overnight stays in a cozy pension
8 nights of camping
Adventurous off-road drive to our ranch
Bear observation
Hot Pot: wood-heated tub with warm salt water included
Free and safe parking spaces
Discount for groups possible on request
Maximum group size is 12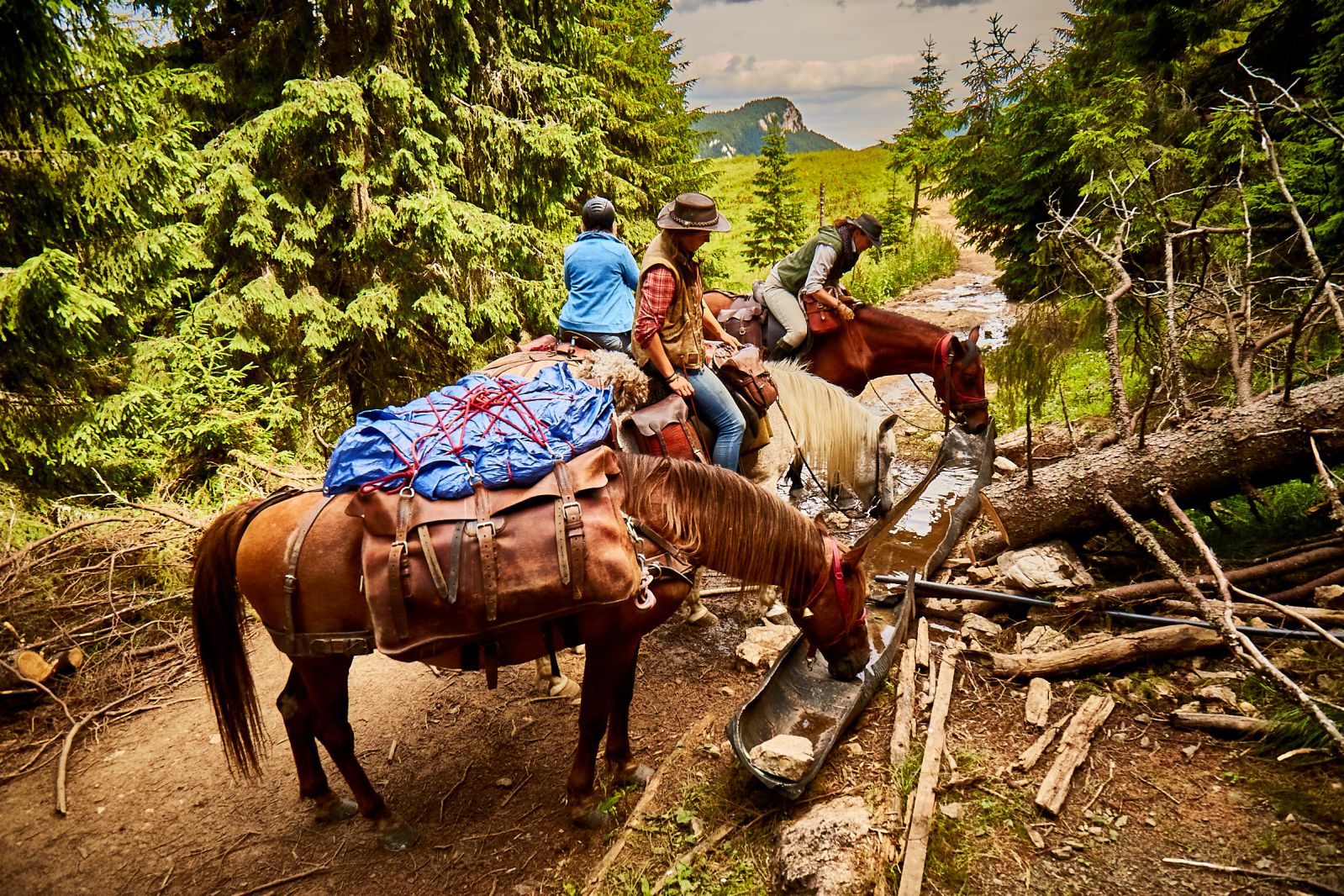 Come and share an adventure on our sure footed horses!
Enjoy 15 days in untouched nature.
1st day:
After your arrival in Gheorgheni, we will take you on an adventurous off-road ride: In our van we will take you to our Hipparion Ranch, which is remotely located in the Eastern Carpathian Mountains. With a little luck we might spot a deer, a capercaillie bird or even a bear. Once you have arrived on our ranch, you can unwind after your long journey by immersing yourself in the warm salt water of our Hot Pot. After having familiarized yourself with our horses and moving into your room, our cook Brigitta, will indulge you with an original Szekler dinner, in our rustic log cabin.
2nd day:
Trial day: After a hearty breakfast, we will go on a short ride to discover the area around our ranch. This will allow you to get to know your horse and the equipment. We will be riding through small mountain streams and pass through vast meadows in order to reach the summit of Mount "Magas Bükk". Once we've reached the peak and had lunch, we will return to our ranch. Here, you will receive a short instruction on how to set up the tents. Our bath barrel filled with salt water will allow you to relax while enjoying the ravishing sunset.
Duration of the ride approx. 2 hours
3rd day:
Our great adventure begins: The first riding stage slowly leads us uphill. We will follow a small path, which will lead us to a clear stream, where we will have the opportunity to water our horses and refill our water bottles. Continuing to ride uphill through dense spruce forests we will reach Mount Sípos (1568m). Once we'll have reached the summit, we will stop for lunch and enjoy the breathtaking view of the Harghita Mountains. Strengthened and full of energy, we will then ride to the plateau which will be our campsite for the night. Once we've set up our tents, we will prepare dinner together and share some good stories at the bonfire.
Duration of the ride approx. 8 hours
4th day:
After a hearty breakfast from the cauldron we will descend from the plateau. Once we've crossed the Mures River the picturesque Harghita Mountains will stretch out in front of us. Before having our lunch break, we'll ride up to the next summit (1153 metres) so that we can enjoy the breathtaking view over the Gheorgheni Basin and the Görgenyi Mountains. Strengthened and full of energy, we will then ride towards the Devil's Lake. On a remote clearing nearby, we will set up our camp for the night. While our dinner is boiling in the pot, we'll refresh ourselves in the cold mountain stream and visit a hot spring.
Duration of the ride approx. 7 hours
5th day:
Today is the longest and perhaps also the most strenuous day of our tour, as we will be riding up to the two highest peaks, Fertö (1589 m) and Madarasi (1801 m). We will be exploring mountain passes, flowering meadows, enjoy panoramic views and fragrant forests, in which we will often find fresh bear tracks. Moreover, we will be spending the night in a beautiful mountain guesthouse 1700 meters.
Duration of the ride approx. 6.5 hours
6th day:
Via Rákosi Hargita (1756 m) we will be reaching the village of Bad Hargita, where we will stop to have lunch. In the afternoon, wide, puszta-like plains are going to await us. The latter are ideal for quick canters. Today, we will be spending the night at an idyllic camp site, with numerous herds of cows and sheep and a beautiful mountain view.
Duration of the ride approx. 7 hours
7th day:
In the morning, we'll be riding past the peat bog of Lucs. At a fast trot we will then be reaching Szent Imrei only to continue our rout in the direction of Mount Kakukk (1557m). Here you will observe a sudden change in the landscape. The pine forests through which we have been riding so far are replaced by beech forests. Today's campsite is close to a traditional alpine hut, where we will learn how the shepherds milk their sheep. Also, we'll have the opportunity to taste the fresh cheese.
Duration of the ride approx. 7 hours
8th day:
We will be riding over a steep ridge with breathtaking views of the surrounding snow-capped peaks, which are up to 2500 m high. In the afternoon we'll cross the river Olt. Once we'll have arrived at a cozy guesthouse, near Tusnad Fürdö, we'll enjoy a much-deserved hot shower and let ourselves be indulged by the tasty dinner on the terrace.
Duration of the ride approx. 6 hours
9th day:
Today, we won't be riding. After a visit to Lake Sfânta Ana, the Devil's Swamp and a sulphur cave, you will be headed to your opportunity to experience brown bears in their natural habitat. We will be spending another night at the guesthouse near Tunsnad Fürdö.
10th day:
After having enjoyed a tasty breakfast, we're going to get back onto our horses. We'll ride through some small, tranquil villages which are situated near to Mount Büdös. This area is very sulphurous, a fact which your nostrils won't be able to deny. Our journey will take us along the Buffogó Moores and up into the mountains where we'll reach a plateau that invites us to canter over its extensive meadows. Close to a beautiful spring and among the shephards, we'll be setting up our camp for the night.
Duration of the ride approx. 6 hours
11th day:
We'll be leaving our campground via colorful meadows and heaths and enjoy the spectacular view of the mountains surrounding us. In order to get to the camping site, we'll be riding through mystical pine forests. Close to a clear mountain stream we'll set up our tents and collect the necessary firewood for the night.
Duration of the ride approx. 6 hours
12th day:
Today's ride will take us to cultivated pastures and farms. Steep ridges and rocky cliffs will be surrounding us, as we'll marvel at the beautiful view of the Csiki Basin below us. We will spend the night in a tent next to an old farm and watch the farmers as they bring in the harvested hay with the horse-drawn carriage.
Duration of the ride approx. 5.5 hours
13th day:
Our adventure will lead us through numerous sheep herds and across colorful meadows. A vast plateau surrounded by mystical cliffs and limestone formations will be our campground for the night.
Duration of the ride approx. 5 hours
14th day:
On our last day in the saddle, we'll be riding to some steep mountain peaks (1700m). Occasionally we'll have to dismount in order to climb up some tricky stretches. Our reward will be a wonderful canter along the Fehérmezö Plateau. Once again, we'll be able to enjoy the scenic view of the Harghita Mountains as we make our way back to the ranch. We'll have prepared a farewell party with some traditional tunes and a stuffed lamb from the oven for you. You'll enjoy your last overnight stay on our Hipparion Ranch.
Duration of the ride approx. 7 hours
15th day:
The time has come to say goodbye. After a hearty breakfast, we will drive you to Gheorgheni, from where you will start your individual journey back home.
Requirements:
You should be experienced in all paces (walk, trot, gallop) and be in a good physical condition. Sometimes we hike and lead the horses down and uphill. You should be able to independently control your horse.
Packing:
Good hiking/trekking boots, high quality rain gear, head lamp, sleeping bag and warm clothes
You will receive a detailed packing list after signing up.
Important notes:
– vegan meals are not possible on this trip
-In special cases lactose free and gluten free meals can be provided. Please be aware that the meals will be simpler and the diversity reduced. Only possible with a declaration before arrival.
Changes in the program can occur depended on the weather.
Booking of the Carpathian Adventure Trail