Take a deep breath, find your inner peace and let your soul dangle while gently rocking from side to side to the swaying rhythm of your horse: Relaxing rides through the untouched, wild and mystical nature of the Carpathians. Our trail-rides are ideal for beginners, experienced riders and families. The daily rides on reliable, sure-footed horses and ponies will take your through scenic landscapes with dense primeval forests and spectacular mountain views.
An experienced, German speaking guide will accompany you and tell you all about Transylvania, its culture and unique nature. Enjoy our regional cuisine which is based on unprocessed products from natural, ecological origin. Let your adventurous day end with guitar music at the bonfire or enjoy the sunset with a glass of wine, while immersing yourself in our hot pot.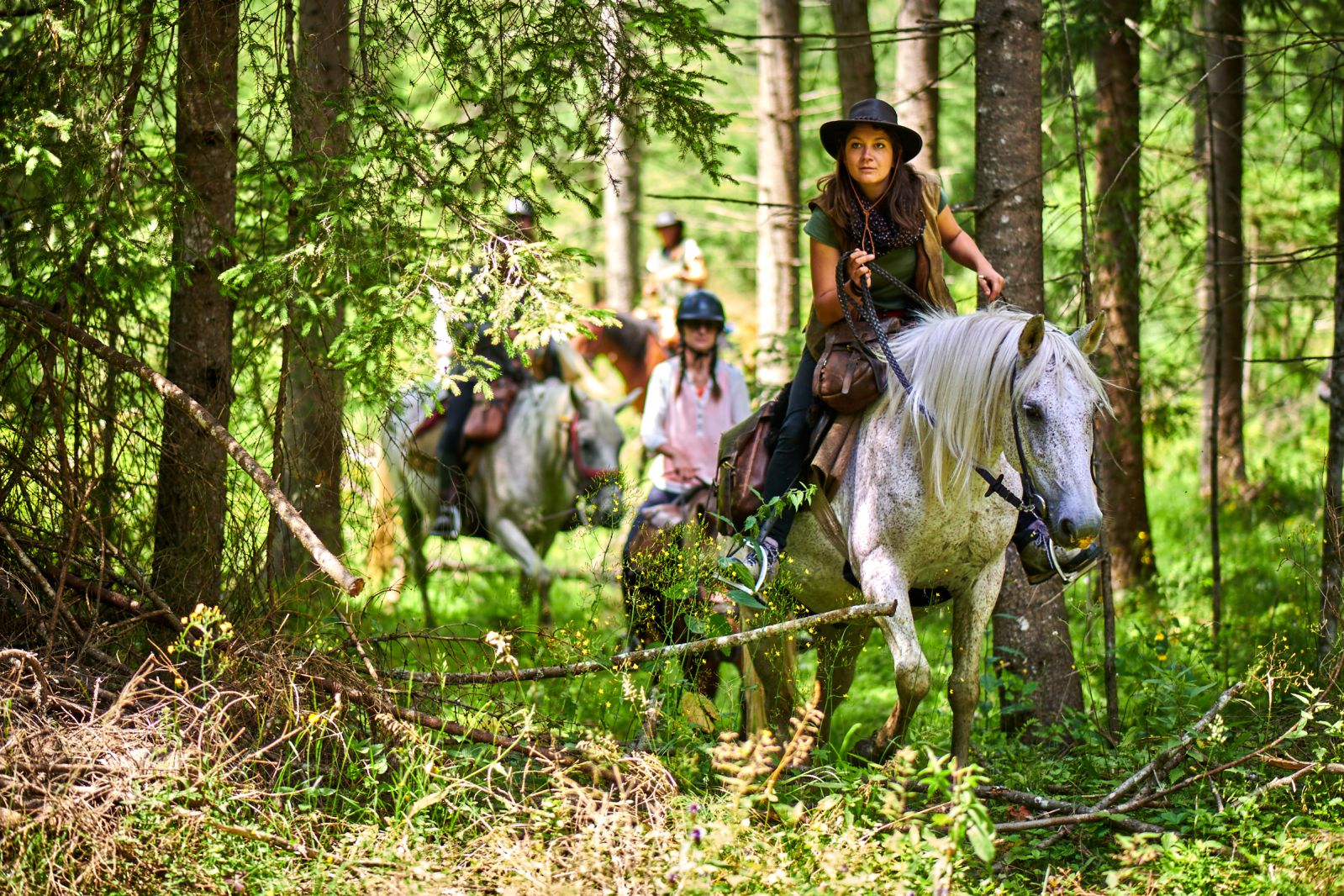 2 riding days / 3 overnight stays
Daily rides with a duration of 4 to 5 hours
Reliable, sure-footed horse and the necessary gear
Experienced, English speaking guide
2 hot meals a day
Local, alcoholic beverages are included
1 picnic a day
Accommodation in an oven-heated double room (single room available if requested) or in the Mongolian yurt
Adventurous off-road drive to our ranch
Hot Pot: wood-heated tub with warm salt water included
Free and safe parking spaces
Accompanying non-riders: 280 Euro
Children under 5 years are free of charge.
Discount for groups of 4 people
Maximum group size is 10
Come with us and discover Transylvania on horseback!
Two relaxing days in an untouched nature.
1st day:
After your arrival in Gheorgheni, we will take you on an adventurous off-road ride: In our van we will take you to our Hipparion Ranch, which is remotely located in the Eastern Carpathian Mountains. With a little luck we might spot a deer, a capercaillie bird or even a bear. Once you have arrived on our ranch, you can unwind after your long journey by immersing yourself in the warm salt water of our Hot Pot. After having familiarized yourself with our horses and moving into your room, our cook Brigitta, will indulge you with an original Szekler dinner, in our rustic log cabin.
2nd day:
Today we'll start our first trail-riding tour. Are you excited? Don't worry, our horses are all experienced climbers who will carry you safely through the mountains! After a typical Romanian breakfast, we will fetch the horses from the meadow together. Next we will be cleaning and saddling our four-legged companions, and after a short briefing our adventure will begin: Today, we will be headed to the valley down below. We will be riding through dense spruce forests, cross a small mountain stream and pass through flowering meadows. After about two hours we will pause at a cheese diary to have our lunch break. You will get a taste of everyday life on the farm and will have the possibility to tuck into the fresh hand-made traditional cheese. Once you're ready we'll be on our way back to our ranch. After taking care of the horses you can relax: Bathing in the Hot Pot, sitting at the bonfire, reading a book, picking mushrooms or herbs; you will enjoy the peaceful time for yourself. Together we will then have dinner in our log cabin.
Duration of the trail-ride: approx. 4 hours
3rd day:
After having had breakfast, we will start our second trail-ride. Our objective will be to ride to the "Little Sipos". On our way we will be passing idyllic farms and our descend to the valley will take us to the source of the River Olt, which is the second largest river in Romania. Here we will water our horses and refill our water bottles. Afterwards we will be riding steeply uphill, thereby passing through primeval forests. Having reached the summit at 1450 meters, we will take our well-deserved lunch break enjoying the wonderful view over the valley of Kovacs Peter. In the evening you will have the opportunity to bath in the Hot Pot, to sit together and to make music next to the campfire and under the starlit sky.
Duration of the trail-ride: approx. 4, 5 hours
4th day:
After a hearty breakfast, we will drive you to Gheorgheni, from where you will start your individual journey back home.
Requirements:
You should know the basics of horse riding (leading, mounting/dismounting, unassisted riding in walk) and be in a good physical condition. Sometimes we hike and lead the horses down and uphill.

Packing:
Good hiking/trekking boots, high quality rain gear, head lamp and warm clothes
You will receive a detailed packing list after signing up.

Important notes:
In special cases vegan, lactose free and gluten free meals can be provided. Please be aware that the meals will be simpler and the diversity reduced. Only possible with a declaration before arrival.
Changes in the program can occur depended on the weather
2023:
Autumn 2023:
04.-07.09.2023 *fully booked*
11.-14.09.2023 
25.-28.09.2023
09.-12.10.2023
23.-26.10.2023
* more dates on request!
2024:
Spring 2024:
28.- 31.03.2024 
02.- 05.05.2024
13.- 16.05.2024
20.- 23.05.2024
27.- 30.05.2024 
03.- 07.06.2024
10.- 13.06.2024
24.- 27.06.2024
Summer 2024:
01.- 04.07.2024
08.- 11.07.2024
16.- 19.07.2024
22.- 25.07.2024
29.07.- 01.08.2024
12.- 14.08.2024
26.- 29.08.2024
Autumn 2024:
09.- 12.09.2024
23.- 26.09.2024
07.- 10.10.2024
21.- 24.10.2024
* more dates on request!
Book the mini riding holidays